Free AWS cloud application monitoring tool
Centralized observability platform for serverless monitoring, automatic debugging, and alerting for AWS resources.
Get started free
No credit card required
14-day free trial
No code changes required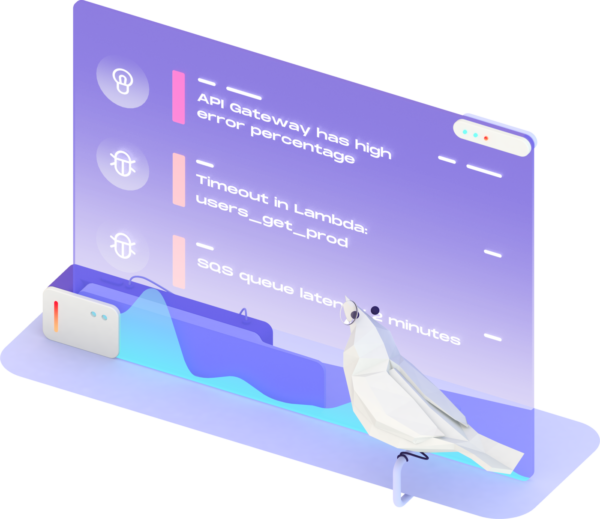 Used by the world's most innovative serverless teams
AWS continuous monitoring: log-based monitoring for AWS Lambda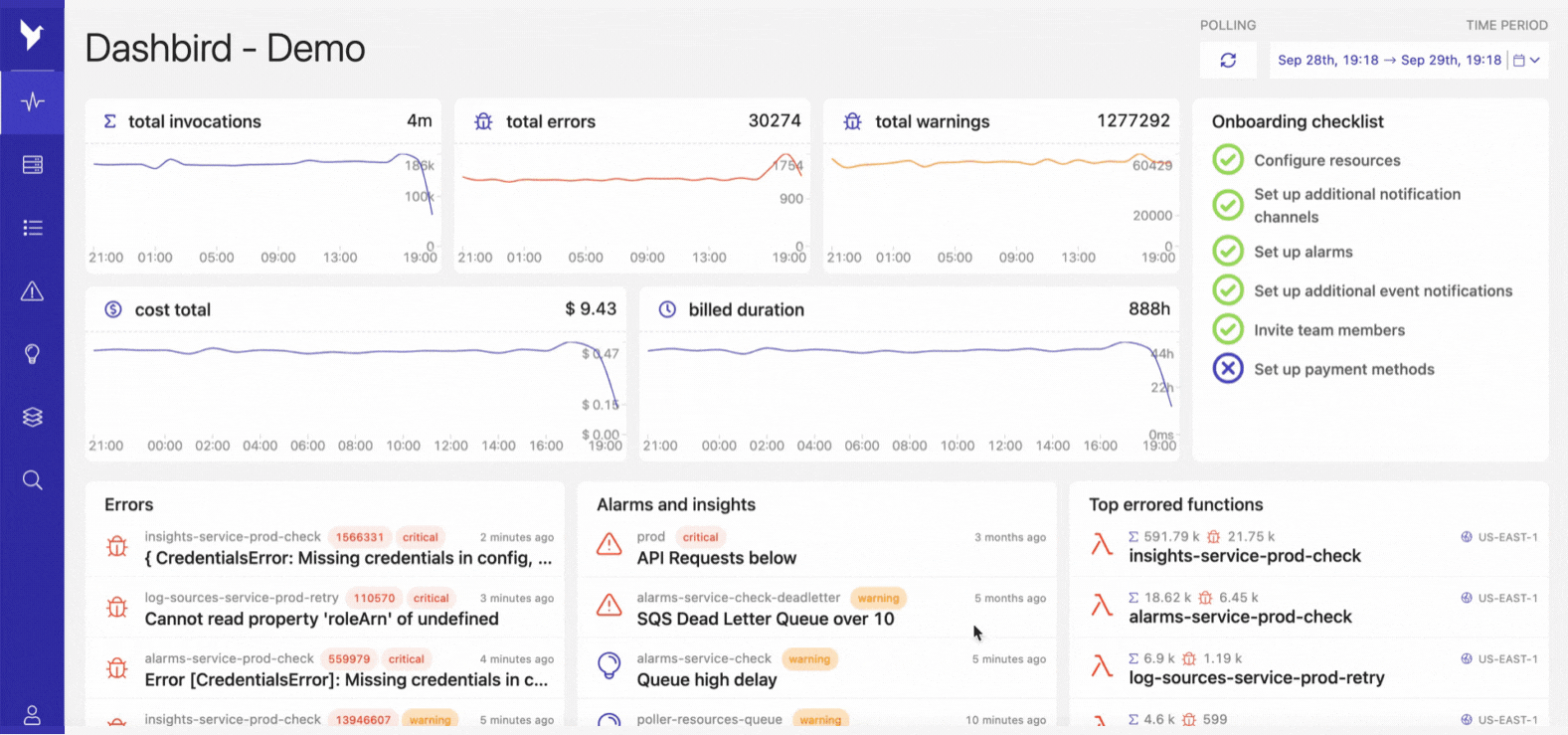 Get a top level visibility of your data
Get valuable birds-eye-view that becomes a must when you have more than 10 serverless functions.
Infrastructure monitoring
Tracing with X-Ray to understand where time is lost and what actually failed
Error detection from CloudWatch logs
Reduce mean time to discovery and resolution (MTTD/R) by up to 80%
One AWS Lambda monitoring dashboard for visibility of the entire system
Learn how your Lambda functions are behaving, from application performance to cold starts to resource usage.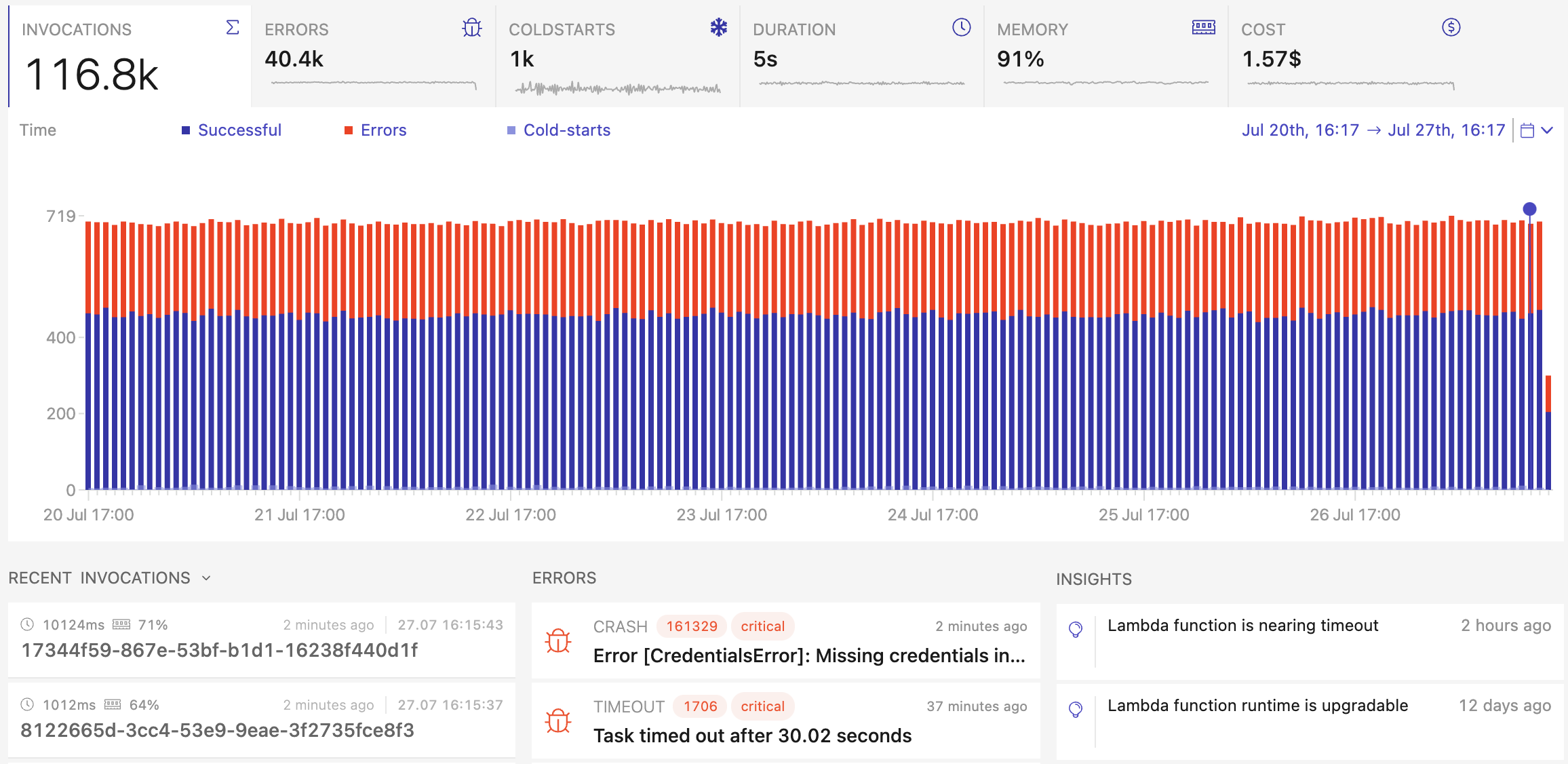 Detect failures automatically
Dashbird finds serverless errors automatically, alerts you in seconds, and identifies the root cause so that you can jump straight in and fix it.
Code exceptions and service-specific failures from logs
Critical metric checks for all AWS services covered
Warning level notifications for metrics
Set custom alerts for metrics – stay on top of what matters to you and your customers!
Get insights on how to power-tune your serverless functions
Dashbird features 70+ continuous checks on your resources based on the five pillars of the AWS Well-Architected Framework and gives you aggregated data reports and actionable advice on what could be improved in your infrastructure.
These checks and suggestions uncover weak points in your system affecting reliability, security, cost, application performance, and operational excellence, helping you build a bullet-proof architecture that's ready to take on added complexity over time.
Monitoring Lambdas while scaling is done best when following AWS' recommendations.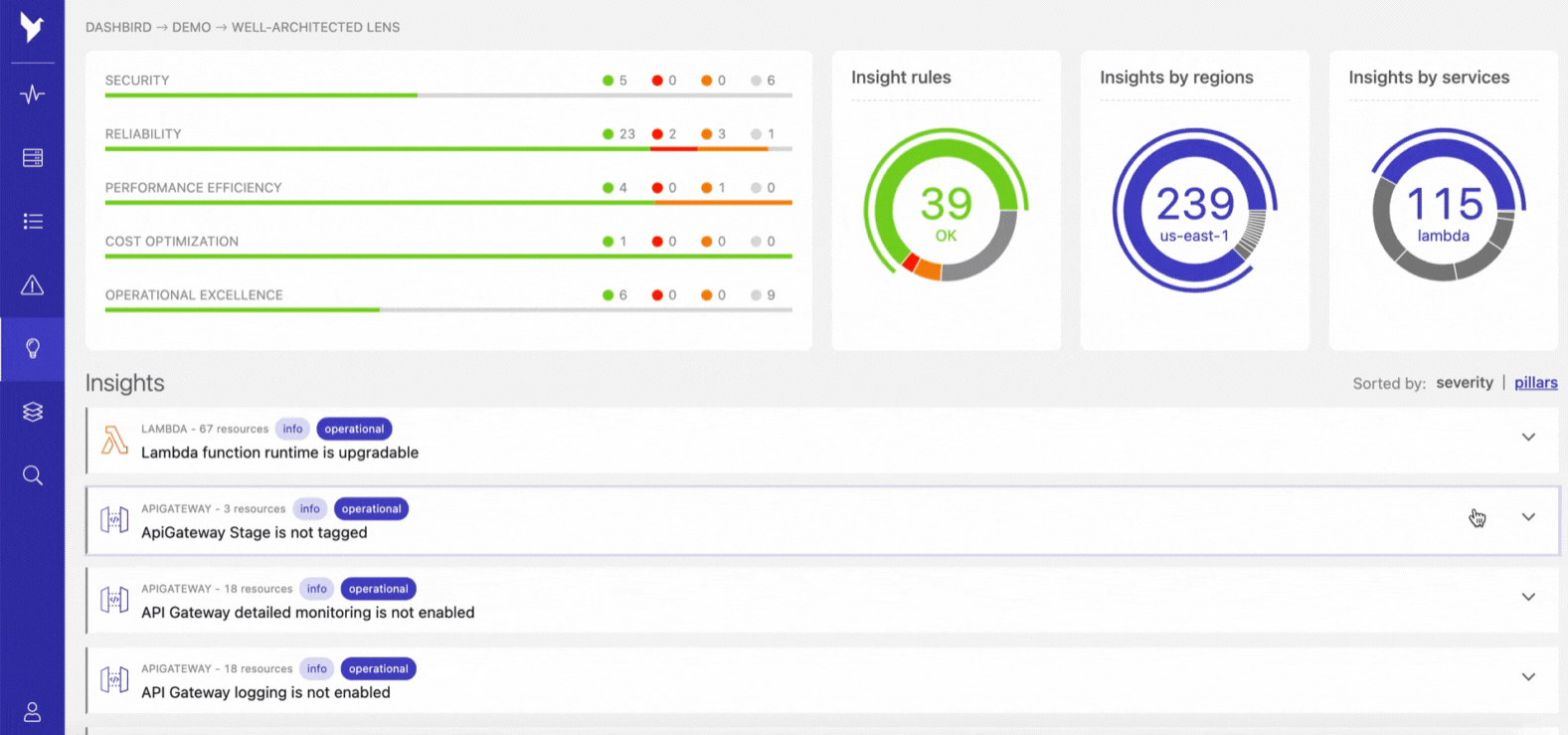 Your entire serverless stack in one place
In addition to AWS Lambda functions, Dashbird also covers detailed observability for API Gateways, SQS queues, ECS containers, Kinesis streams, Step Functions, and DynamoDB tables.
Access logs, metrics, and tracing data all in one place.
Easy setup – no configuration needed
Fast and seamless setup – no code changes required. Just deploy CloudFormation template to your AWS.
Dashbird continuously collects and filters your log data to detect failures in your system, that you won't find anywhere else.

Integrating with Slack, email, SNS, and webhooks.

Our pricing fits your stack – use Dashbird for free forever for smaller infrastructures, or pick your monthly package based on your invocations count.
Start optimizing and cutting costs on your AWS Lambdas right away.
What our customers say
Dashbird gives us a simple and easy to use tool to have peace of mind and know that all of our Serverless functions are running correctly. We are instantly aware now if there's a problem. We love the fact that we have enough information in the Slack notification itself to take appropriate action immediately and know exactly where the issue occurred.
Great UI. Easy to navigate through CloudWatch logs. Simple setup.
Use cases & solutions
Deployment owner: I want to be alerted if new errors are introduced after a release
In order to identify regressions, it's important to be alerted if new errors are introduced after a release. With Dashbird you will get: 
✅ a Slack notification on first occurrence in each environment;
✅ direct links to invocation logs;
✅ direct links to details of other occurrences in that environment/region, including first and last.
Developer: I want to know if there are problems with the resources my team owns
That's a common use case for teams that own a number of resources and want to know if they are encountering any issues. 
✅ Dashbird has the concept of a Resource group which provides a logical grouping of resources;
✅ It's possible to see the status or possible issues with your team's resources all in one place;
✅ You can configure alerts to go to a specific Slack channel. Get alerted to issues with your team's resources.
DevOps engineer: I want to find which resources have the highest error rates
The goal is to find some quick wins in terms of resources which have significant error rates that can be targeted for improvements. Dashbird:  
✅ Lists the TOP5 Lambdas in an account by error volume on the Dashboard;
✅ Can show top errors by resource groups;
✅ Can list all errors ("Events") and order these by number of occurrences.
DevOps engineer: I want to optimize performance
Get insights into account, microservice and function level performance metrics so you can optimize functions for better performance and speed.
Use cases
Monitoring serverless applications
Increase the quality of your service by getting observability, failure detection and efficient data interrogation from one platform.
Serverless alert management
Dashbird detects known and unknown failures across all cloud resources and offers a powerful alert and incident management platform to build your on-call process on.
Debugging and log analysis
Debug and analyse root causes of issues in seconds with access to real-time activity data. Dashbird breaks down silos between logs, metrics, and traces.
Performance optimization
Find and solve performance bottlenecks. Understand the implications of code changes and architecture modifications.
Cost optimization
Monitor the cost of each cloud resource and find out how you can optimize them. Dashbird tells you if you have overprovisioned on unused resources and shows you exactly where you're losing time and money.
Security and compliance
Continuous security and posture checks across your serverless infrastructure with a SOC 2 Compliant monitoring platform, enforcing the best practices and reliable architecture.
Resolve serverless performance issues faster
Serverless monitoring tools like Dashbird help you with serverless architecture or better yet, serverless computing – it's a way of building and running applications and services with no need, whatsoever, for infrastructure management.
Use Dashbird and scale your cloud applications on serverless environment securely and with ease.