Getting Started with Dashbird
Dashbird is a monitoring, debugging and intelligence platform designed to help serverless developers build, operate, improve, and scale their modern cloud applications on AWS environment securely and with ease.
Serverless architecture fundamentally changes how we build, deploy, and maintain software. Although AWS CloudWatch can be used to monitor cloud resources, it was not designed for the challenge and doesn't have all the necessary data readily available. Dashbird fills the gaps left by CloudWatch and other traditional tools by offering enhanced monitoring, operations, and actionable insights tools all in one place.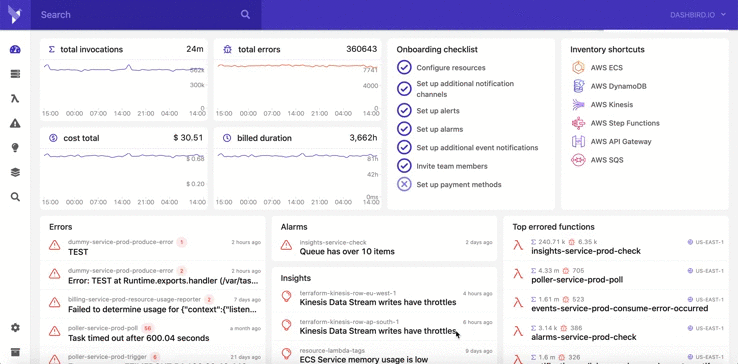 Inventory
Dashbird monitors multiple cloud components in AWS cloud, such as Lambda functions, API Gateways, SQS queues, ECS containers, DynamoDB tables.
Developers can track the Inventory of cloud components in one single place. This allows for an effective and effortless observability process over the entire serverless cloud stack.

Lambda Functions
Lambda functions have a special monitoring section, due to the complexity and amount of data generated by execution logs. Differently from AWS CloudWatch, Dashbird individualizes each invocation log and includes metrics and traces to make it easier to debug any potential issues or performance bottlenecks.
Aggregated metrics are also provided for each function. Detailed statistics include average, minimum, maximum, and 99th percentile. Multiple dimensions are aggregated for each function:
Invocations
Errors
Duration
Memory utilization
Cost
These metrics support not only function health analysis but also resource and cost improvements.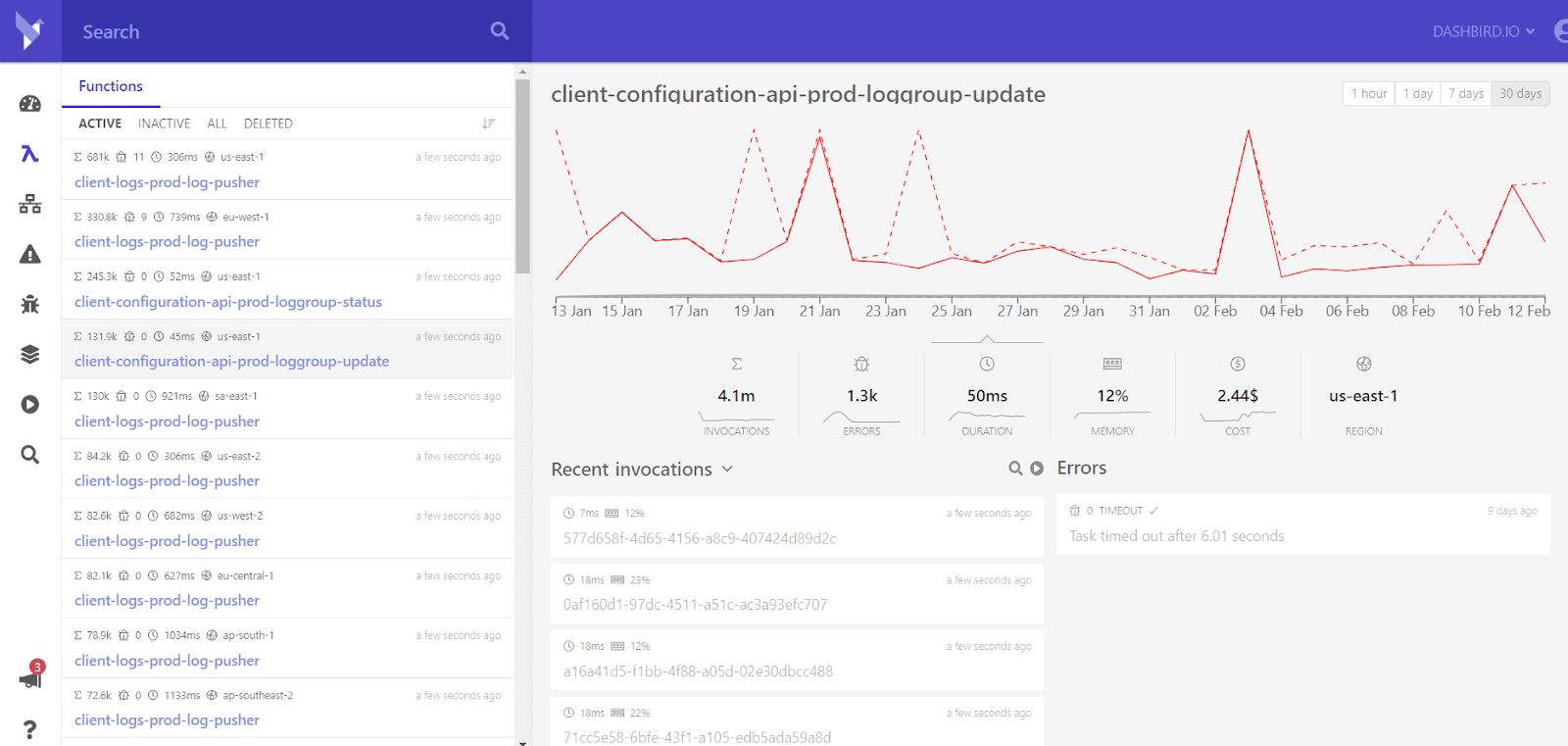 Insights
Dashbird monitors cloud components in serverless applications and cross-reference against well-architected best practices. Services monitored by Dashbird Insights include SQS queues, ECS containers, DynamoDB tables, API Gateways.
Insights are automatically generated when:
Your infrastructure is likely to fail
Our system identifies opportunities for improvement

Error Tracking and Alerting
Track errors in real-time and receive proactive alerts by email and Slack whenever issues are detected in your serverless stack.
Dashbird has automated issue detection algorithms so that developers don't have to worry about what they should monitor. Our system also cross-checks cloud components' behavior against well-architected best practices, anticipating risks of failure, and suggesting opportunities for improvement.
Dashbird automatically detects all types of application errors and exceptions, in every runtime supported by AWS Lambda: NodeJS, Python, Java, Ruby, Go, .NET. It also monitors errors related to the Lambda platform and its limits, such as timeout, out of memory error, etc.
Other cloud components also have their own set of monitors. SQS queues are checked for a growing number of pending messages, DynamoDB tables have throttling and resource capacity consumption verified, ECS containers have resource-usage tracked (e.g. memory, CPU utilization level).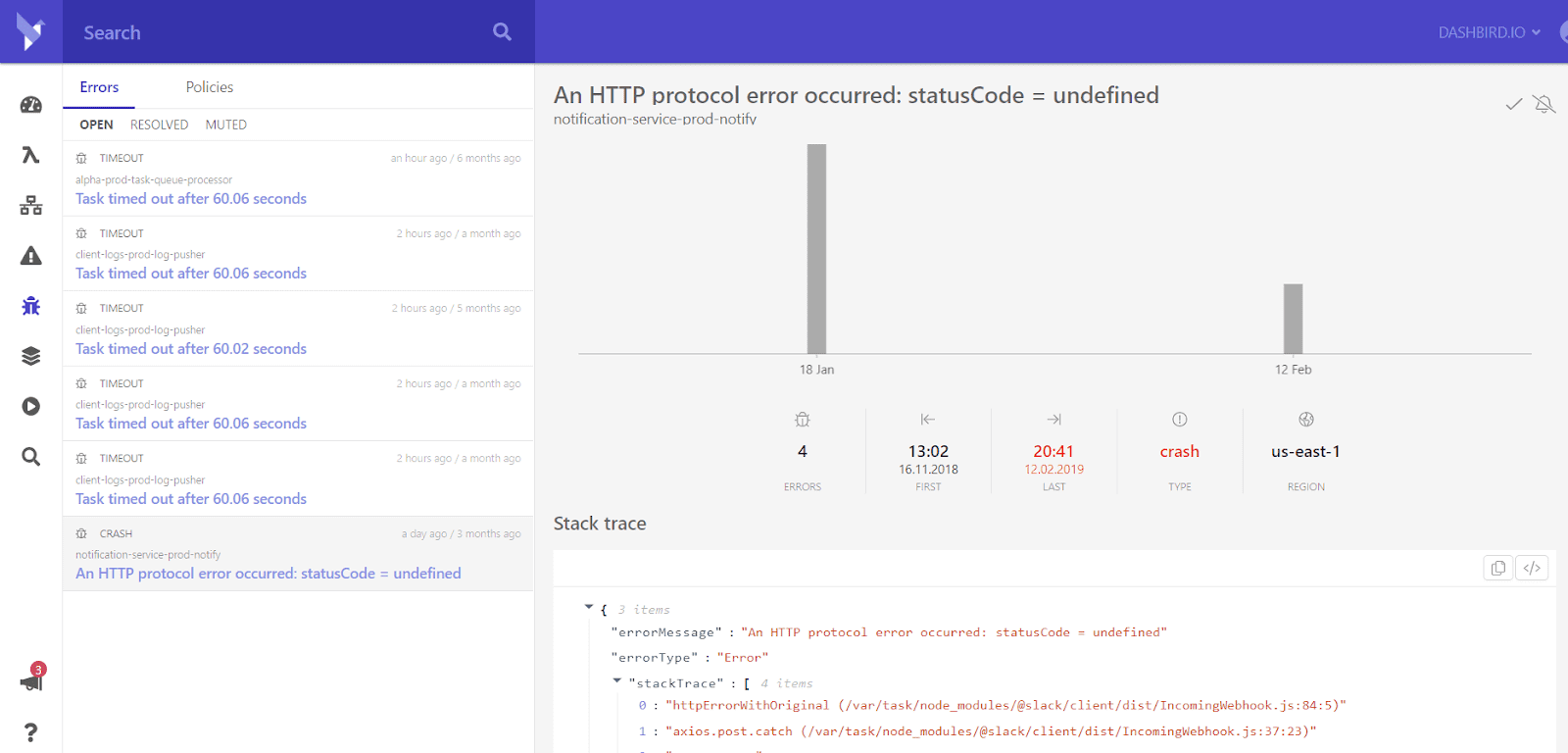 X-Ray Integration
Dashbird also integrates with AWS X-Ray, so that Lambda functions logs can be analyzed in connection with application traces and errors in a single interface.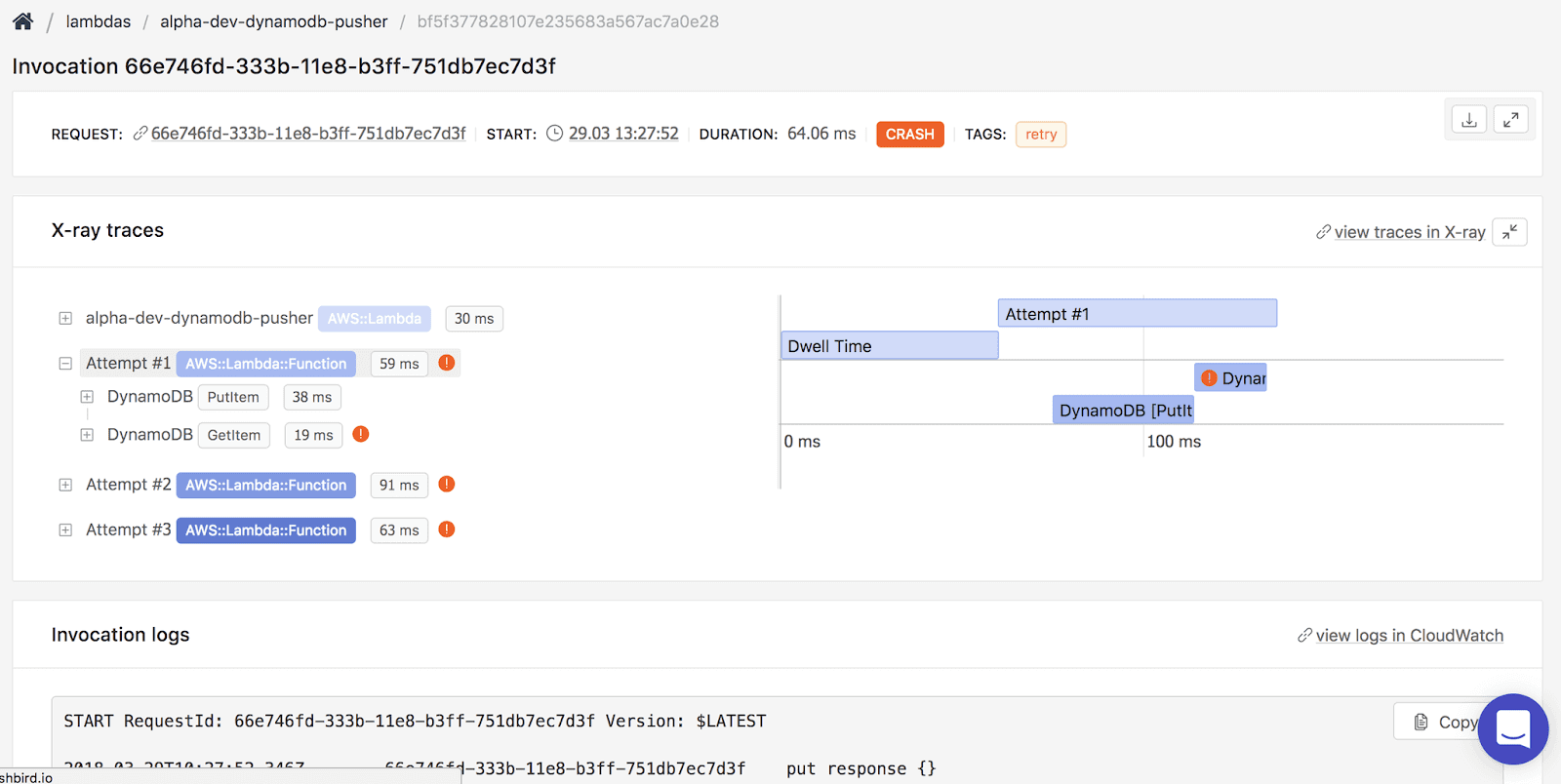 Policies
Monitor each function behavior with customized policies based on performance and resource usage.
For example, an incident can be raised when one or more Lambda functions start using more than 90% of memory, on average, and the situation persists for a period of 15 minutes.

Under the Hood your Serverless Stack
Dashbird requires zero instrumentation (no code changes) and you can start working with your data immediately after connecting your AWS account – Dashbird only requires read-only access, so your data is safe and secure within Amazon account. Lambda costs, execution time, and speed, as well as latency, will not be affected.
It takes you just a handful of clicks to connect Dashbird to your AWS account privately. Dashbird will then start automatically monitoring your whole serverless stack and CloudWatch Log groups for Lambda logs, and stitch your whole serverless stack together on the Dashbird app.