Why use Dashbird?
Serverless architecture fundamentally changes how we develop, deploy, and monitor applications. Managed services won't provide access to the underlying hardware and software platforms, thus traditional ways of monitoring – such as using daemons – will not work.
Services such as AWS Lambda also come with their own limits and idiosyncrasies: limited memory and execution time, retry-behavior, and many others may create side-effects that can easily become monitoring nightmares.
Composing multiple services for computing, data storage, queues, etc. magnifies the problem. The number of potential issues is multiplied by the interactions and dependencies throughout the cloud stack.
Running such architectures at scale is even more challenging. We cannot expect the stack will behave homogeneously at every level of traffic. Perhaps AWS Lambda functions will scale faster than a database, for example.
Dashbird is specifically designed to provide Cloud Architects and Developers with ways to quickly and easily navigate such complex problems while achieving a high degree of visibility and quality in any serverless architecture.
Dashbird was created by serverless developers, for serverless developers. We walk in your serverless shoes every day and it is our mission to make your life easier and to give you peace of mind in successfully managing serverless back ends at scale.
Dashbird in a nutshell:
Cutting-edge observability through real-time data visualization, all in one place
Automatic error and anomaly detection and alerting from logs and metrics
Actionable insights based on the AWS Well-Architected Framework and best practices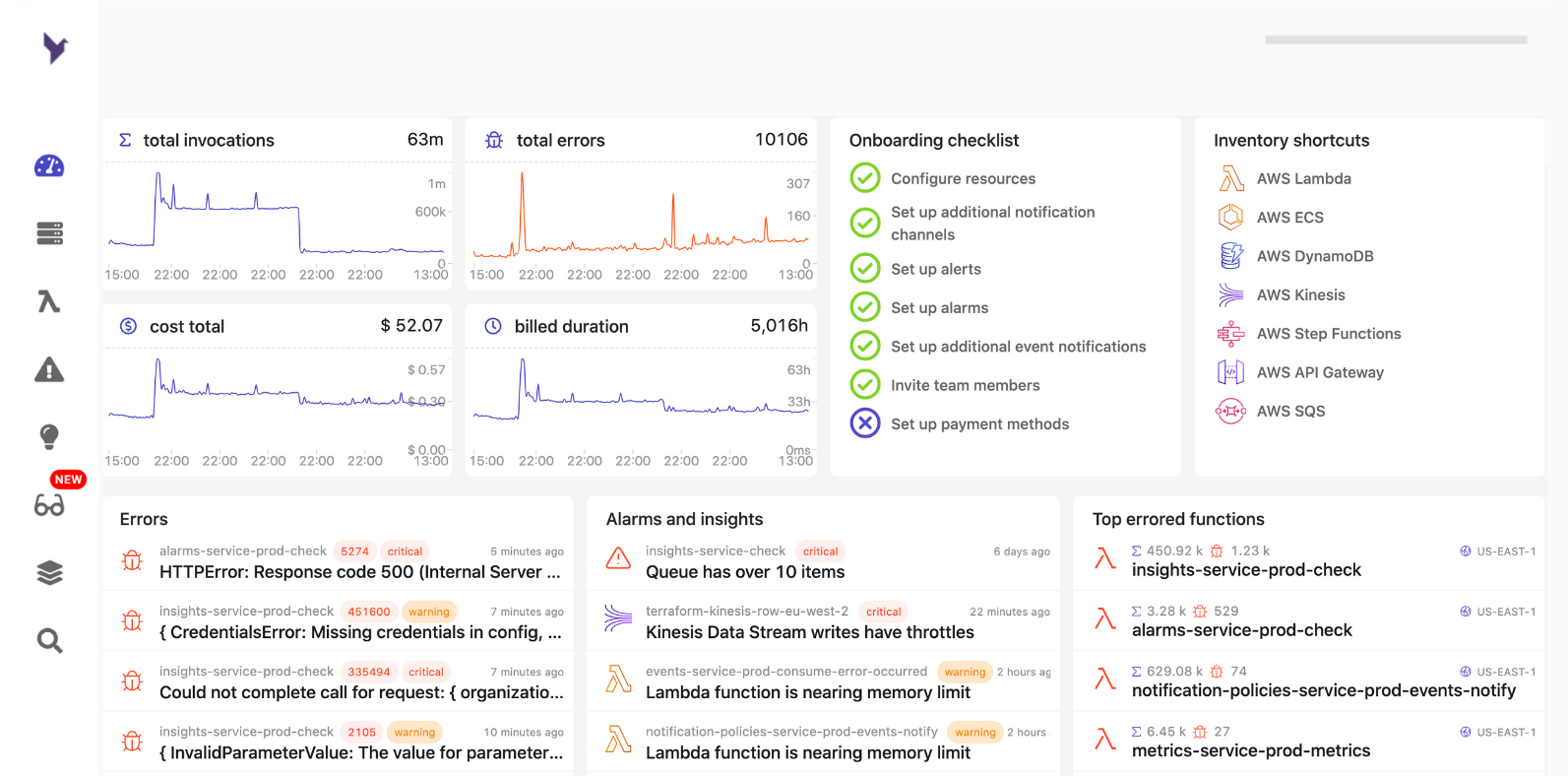 What this means to the user:
Real-time data to fully understand your whole serverless infrastructure
Up to 80% faster MTTR and saved on debugging
More scalability
Simple cost optimization and thus an average of 10% lower cloud bills
Lower or mitigate risks
Quicker time to market and the ability to build and deploy features faster and more often
Simple to use and speedy implementation of Dashbird app – start working with your data immediately after signing up.
Easy to understand clean dashboards with all critical data readily at your fingertips
A budget and user friendly tool that covers all your serverless needs 🙂
See how we've helped our existing customers save time, money and succeed in serverless.
Can't find what you're looking for? We'd love to help. Send us a message through the chat bubble or email us.