End-to-end observability for serverless
Understand everything about your application in one place – Lambda observability and a lot more.
No credit card required
14-day free trial
No code changes required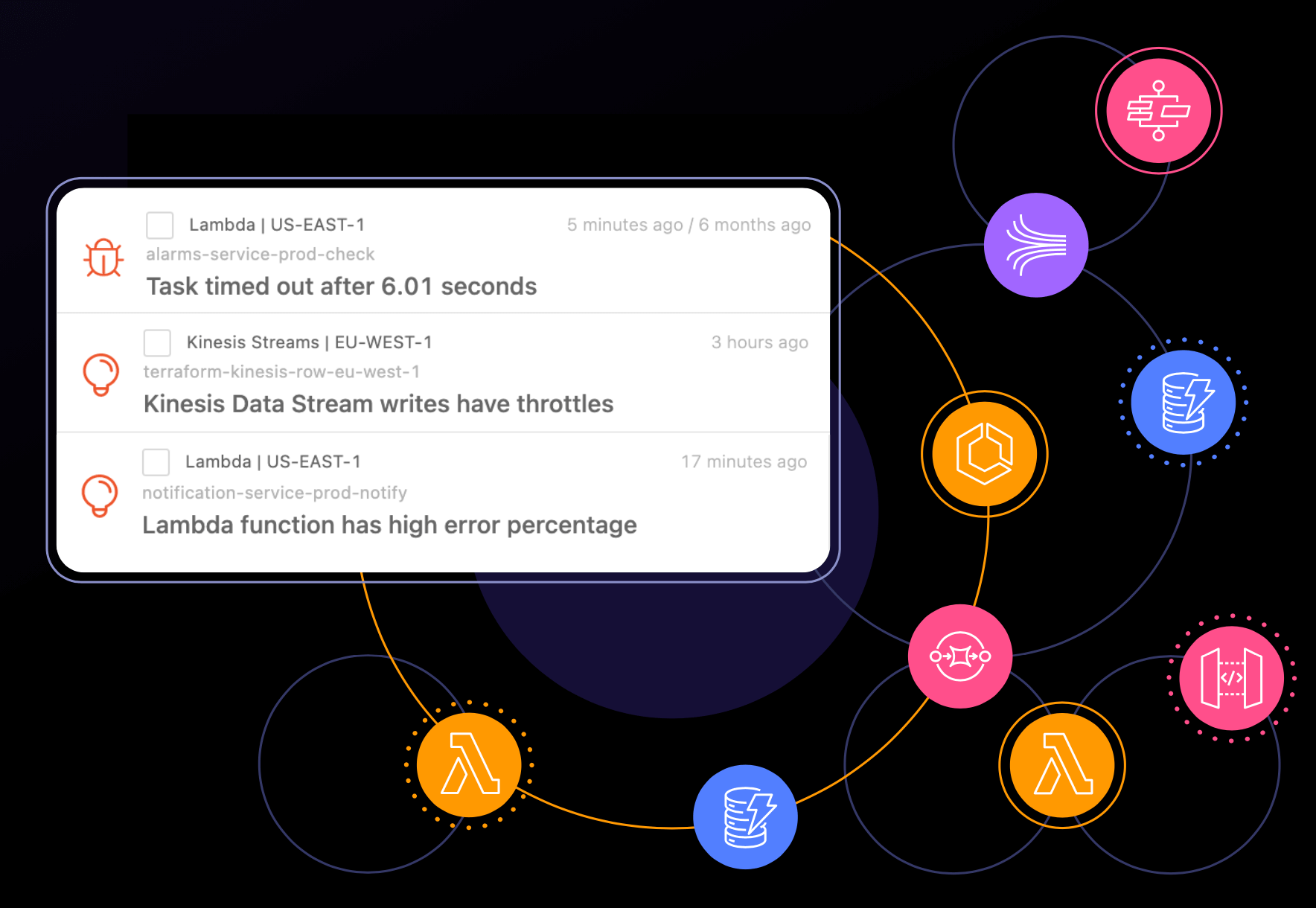 Used by the world's most innovative serverless teams
Fast and secure AWS serverless observability, debugging, and intelligence
Quickly understand your microservices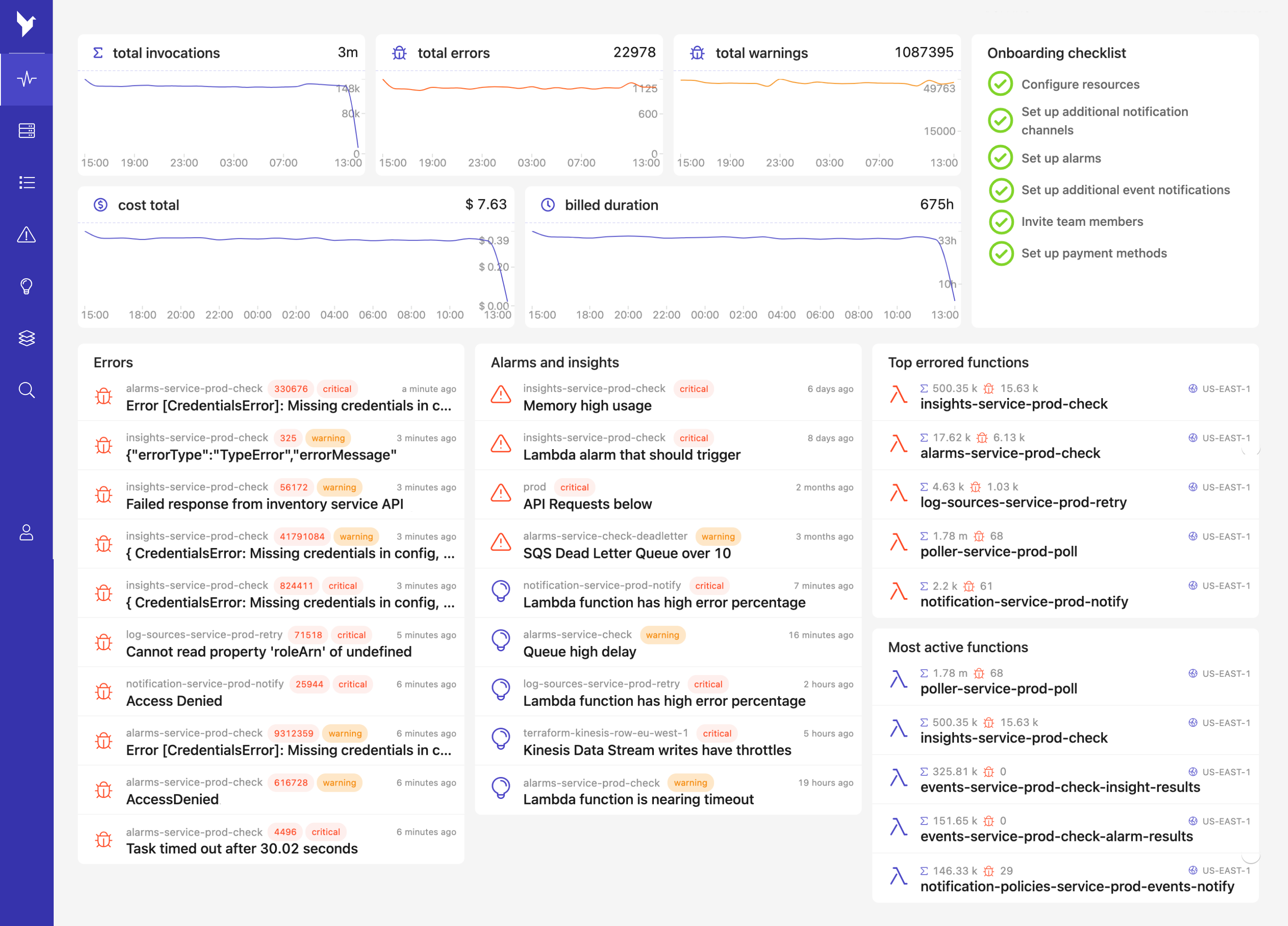 Single pane of glass for logs, metrics and traces
Every datapoint that exists in your cloud environment, centralized under one roof. Dashbird makes it easy to visualize and interrogate all the data about your serverless application.
Automatic discovery and ingestion from all cloud resources
Deep integrations with X-ray, CloudWatch Logs, CloudWatch Metrics, and resource configurations
Distributed tracing helps to pinpoint bottlenecks, bugs, and other issues that impact your application performance.

Automates alerts for insights and errors via Slack, email, SNS or webhooks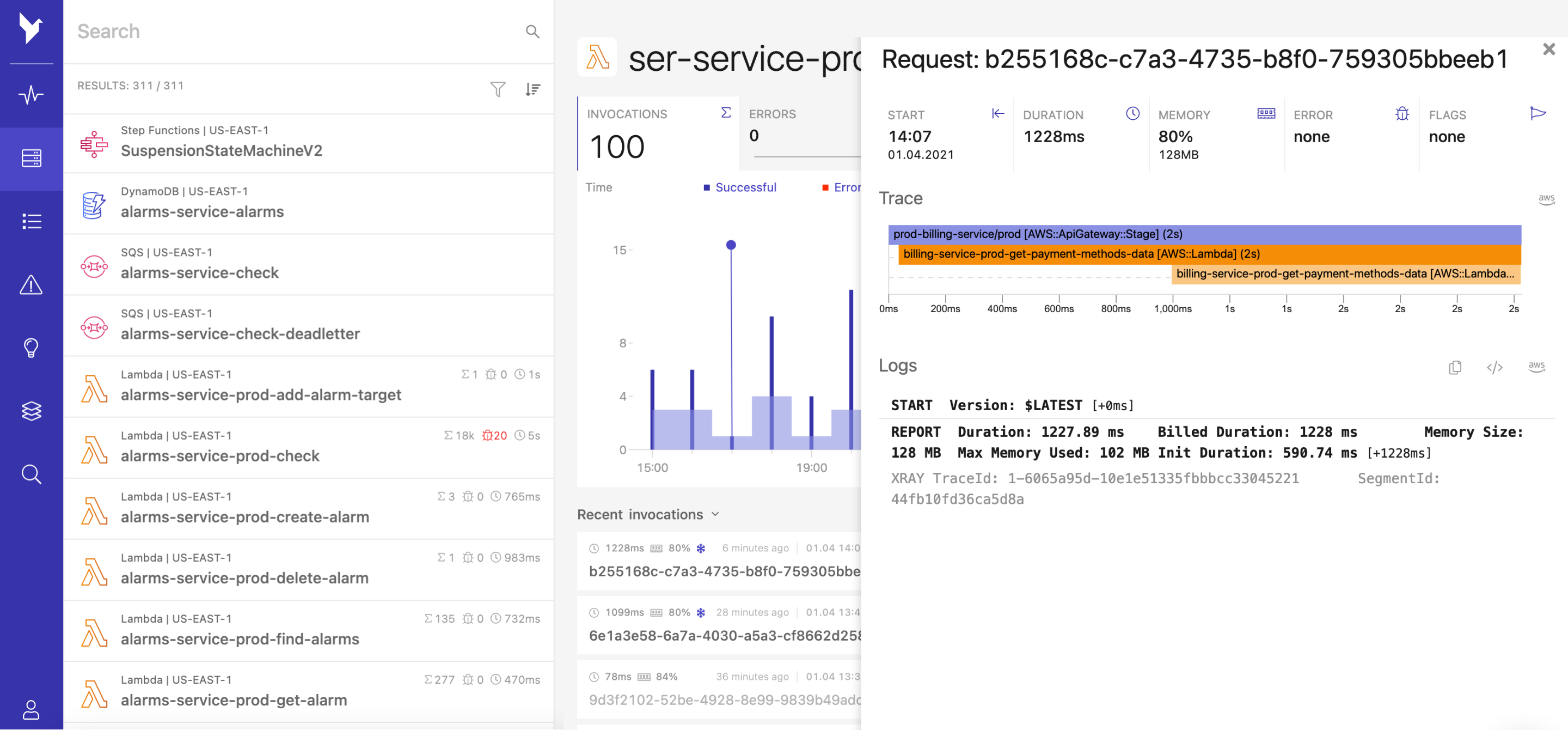 Powerful log search and analytics
Dashbird features a full-fledged log analytics functionality that is powered by ElasticSearch. You can search across logs of multiple resources at once and can filter log results based on keywords, resources, projects, status (like error or success), date range.
Automatic ingestion from CloudWatch

Search, query, and visualize across multiple sources and regions

Analyze AWS data by project groups – group and organize several resources together specific to a business use case and debug them as a single unit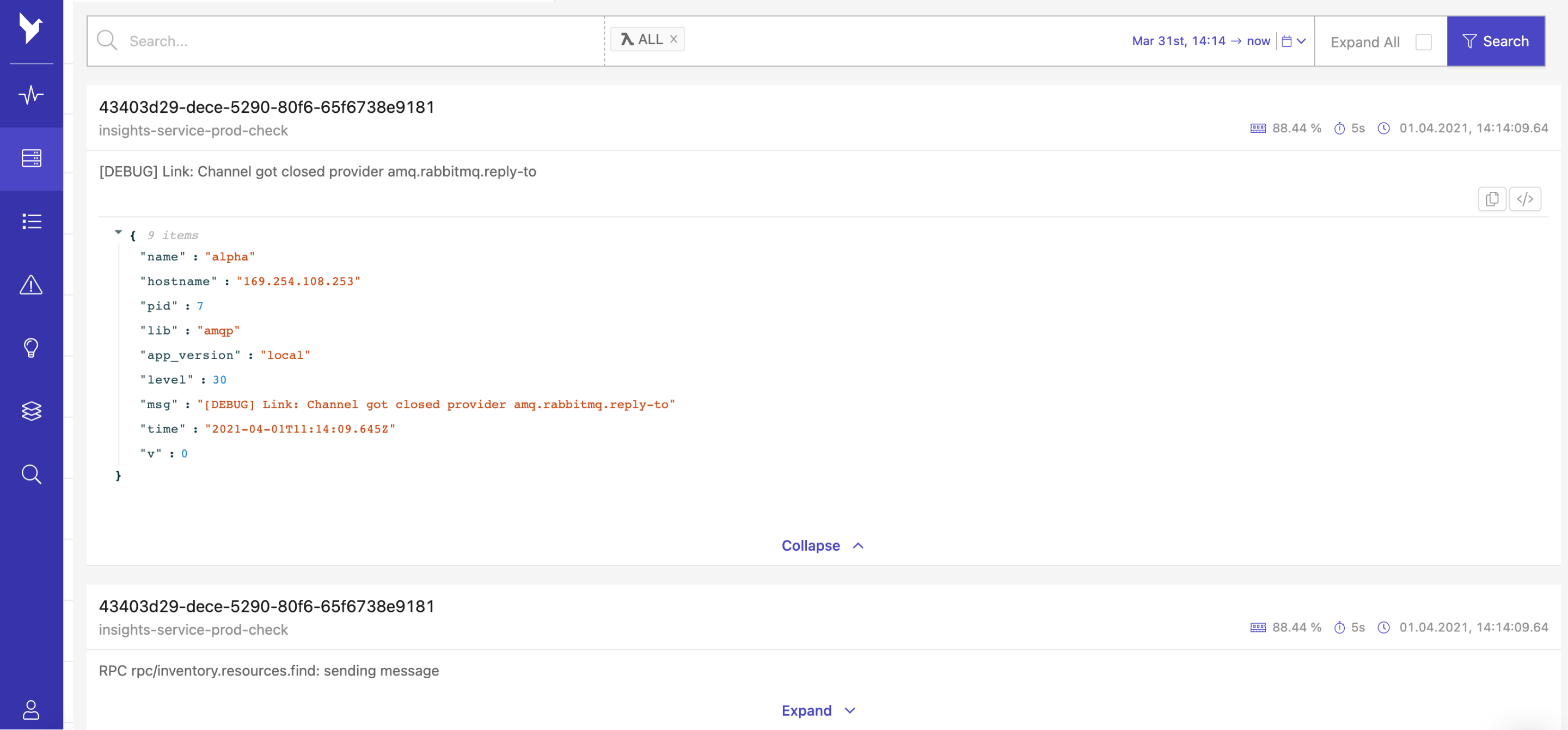 Your entire cloud stack in one place
Dashbird monitors multiple cloud components in AWS cloud:
Lambda monitoring
API Gateways monitoring
AppSync monitoring
SQS queues monitoring
ECS containers monitoring
Kinesis streams monitoring
Step Functions monitoring
DynamoDB tables monitoring
RDS monitoring
HTTP API Gateway monitoring
ELB monitoring
SNS monitoring
OpenSearch monitoring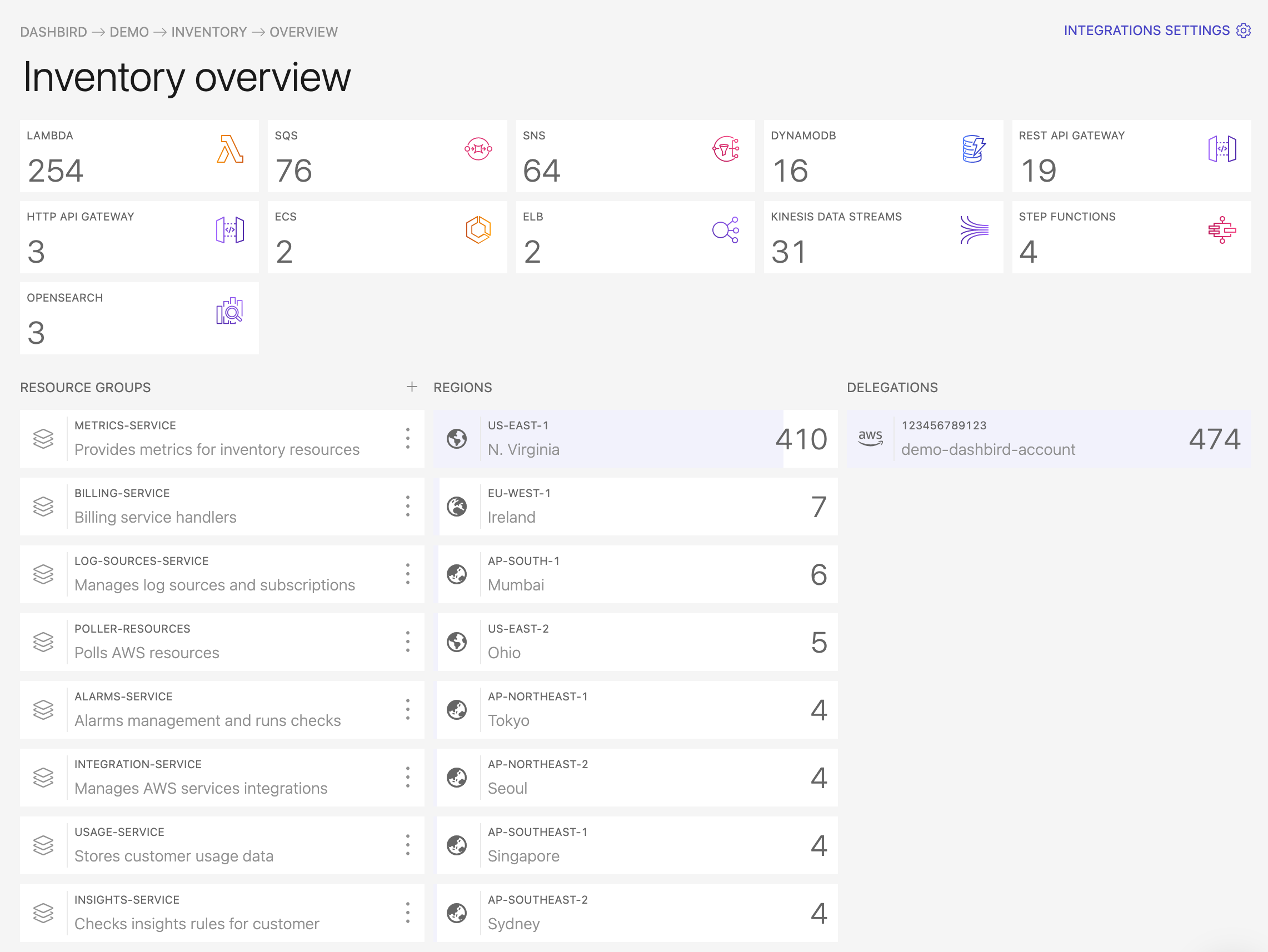 The simplest setup in the market
Contrary to other tools in the market, Dashbird requires no code changes or deployed infrastructure, only a read-only role deployed to your AWS account while still giving you end-to-end visibility.
Setting up takes 2 minutes and you run no risk of affecting your application.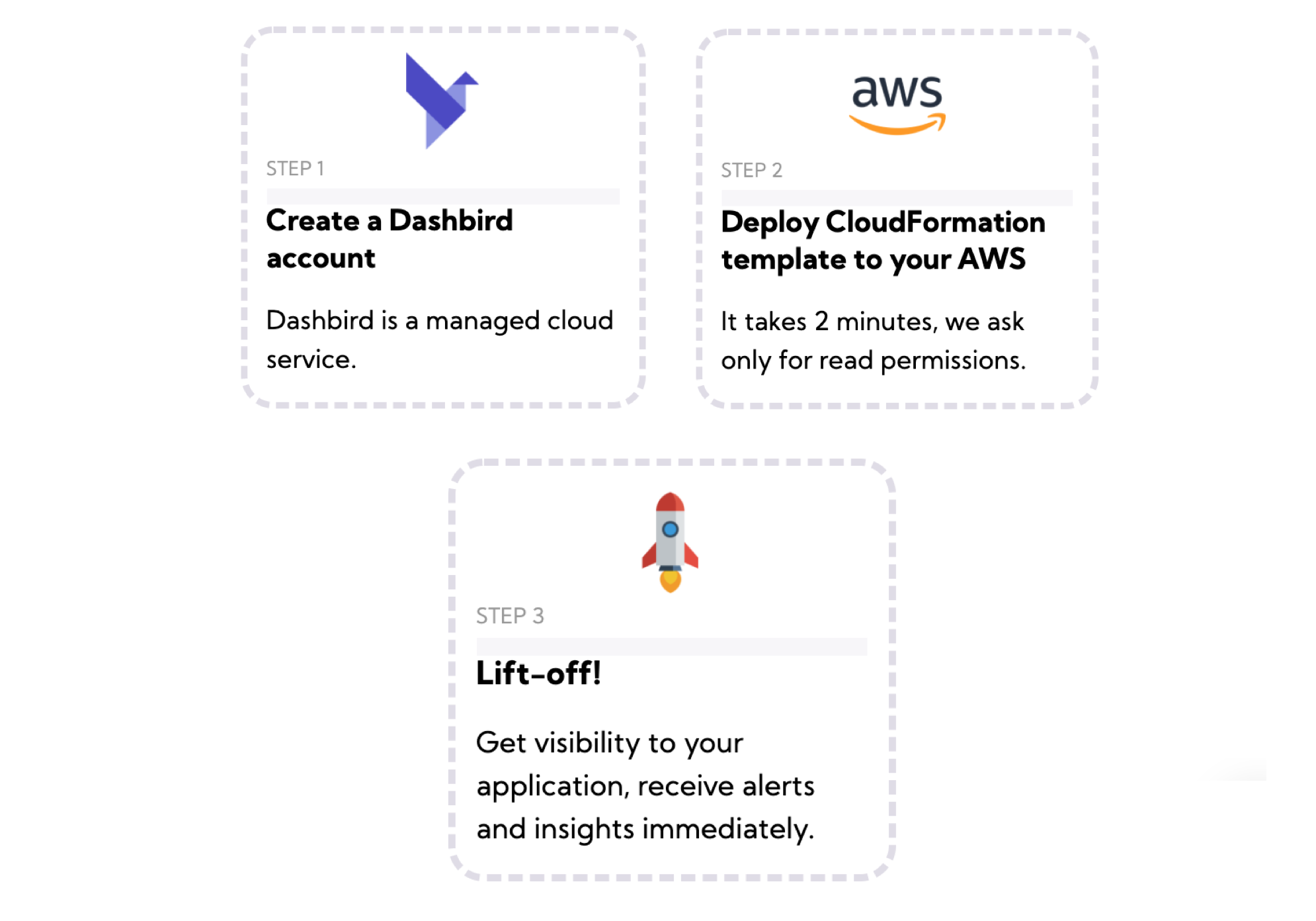 All Dashbird features
What our customers say
Dashbird gives us a simple and easy to use tool to have peace of mind and know that all of our Serverless functions are running correctly. We are instantly aware now if there's a problem. We love the fact that we have enough information in the Slack notification itself to take appropriate action immediately and know exactly where the issue occurred.
Great UI. Easy to navigate through CloudWatch logs. Simple setup.
Resolve serverless performance issues faster
Dashbird is a monitoring, debugging and intelligence platform designed to help serverless developers build, operate, improve, and scale their modern cloud applications on AWS environment securely and with ease.