Dashbird vs Lumigo
Dashbird vs Lumigo: find out which serverless observability solution works best for your stack.
No credit card required
14-day free trial
No code changes required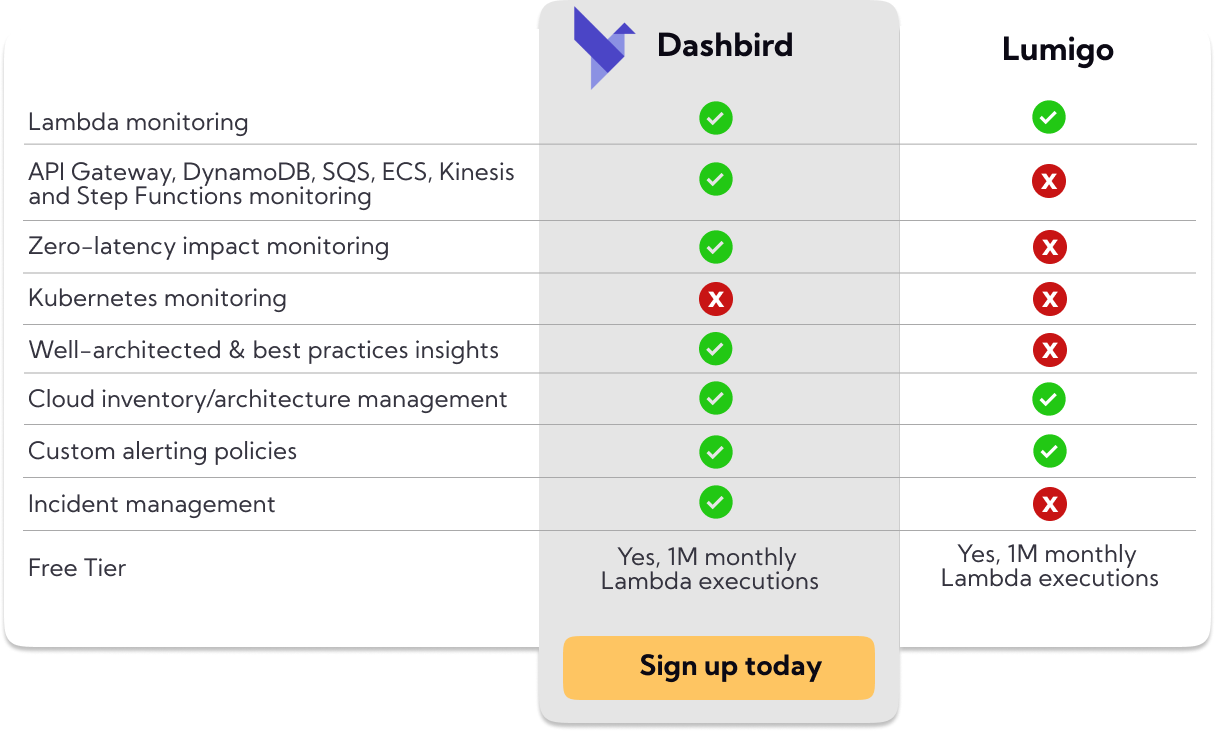 Used by the world's most innovative serverless teams
Dashbird vs Lumigo
Serverless observability: Dashbird vs Lumigo
If you have a very Lambda-heavy architecture at hand that needs monitoring, you're good to go with both – Dashbird and Lumigo. These serverless monitoring tools give you all the information you need in a much cleaner way than CloudWatch.
But if you only use Lambda in a few places, or thinking about using other AWS managed services, other than Lambda, then Dashbird should be your choice.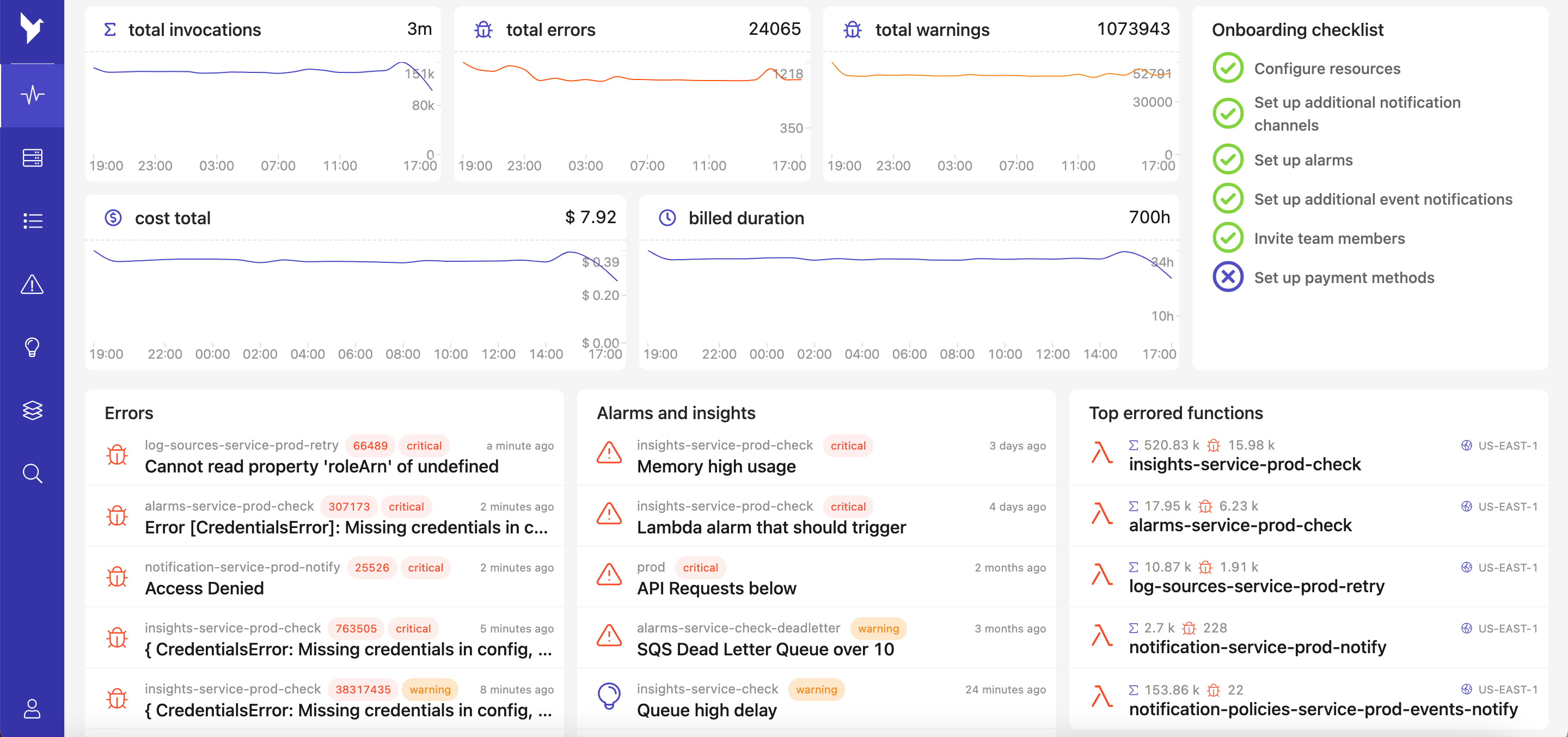 Monitoring and troubleshooting all main AWS managed services
In addition to AWS Lambda functions, Dashbird also covers detailed observability for API Gateways, SQS queues, ECS containers, Kinesis streams, Step Functions, and DynamoDB tables.
Monitoring tool that let's you access logs, metrics, and distributed tracing data all in one place. Get a great real time overview!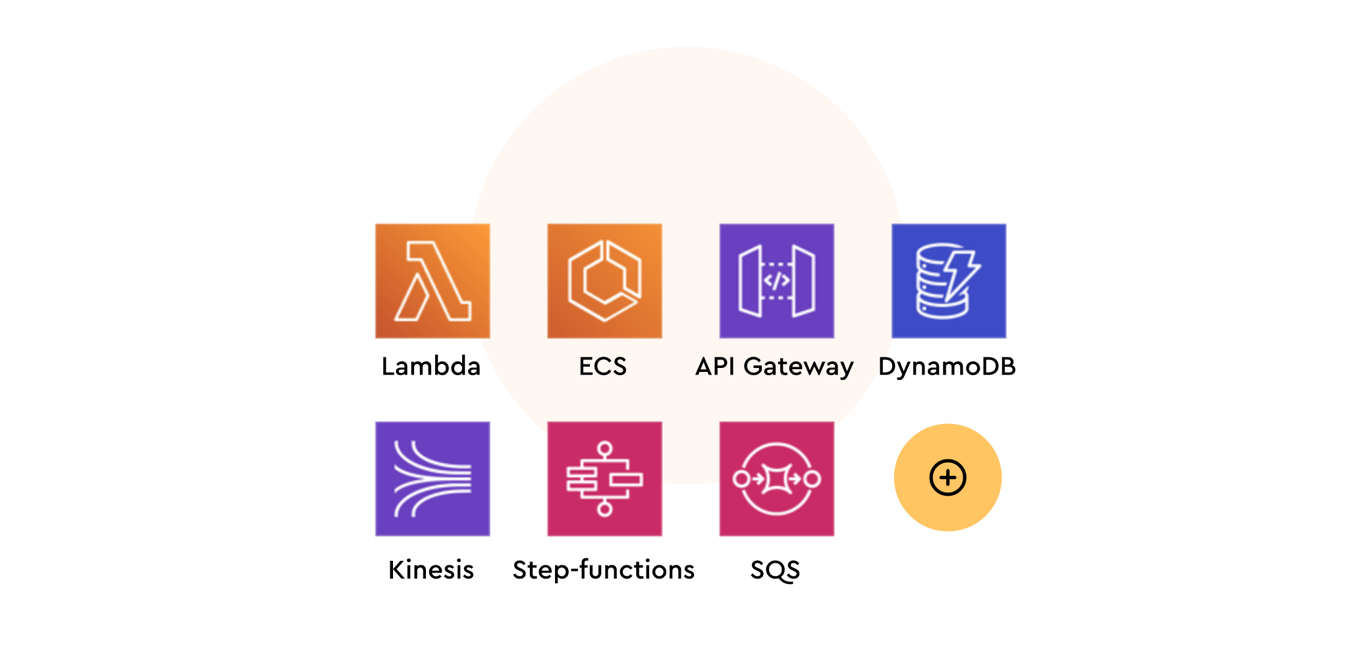 Automatic failure detection
Dashbird finds serverless errors automatically, alerts you in seconds, and identifies the root cause so that you can jump straight in and fix it.
Code exceptions and service-specific failures from logs and traces
Critical metric checks for all AWS services covered
Warning level notifications for metrics
Set custom alerts for metrics – stay on top of what matters to you and your customers!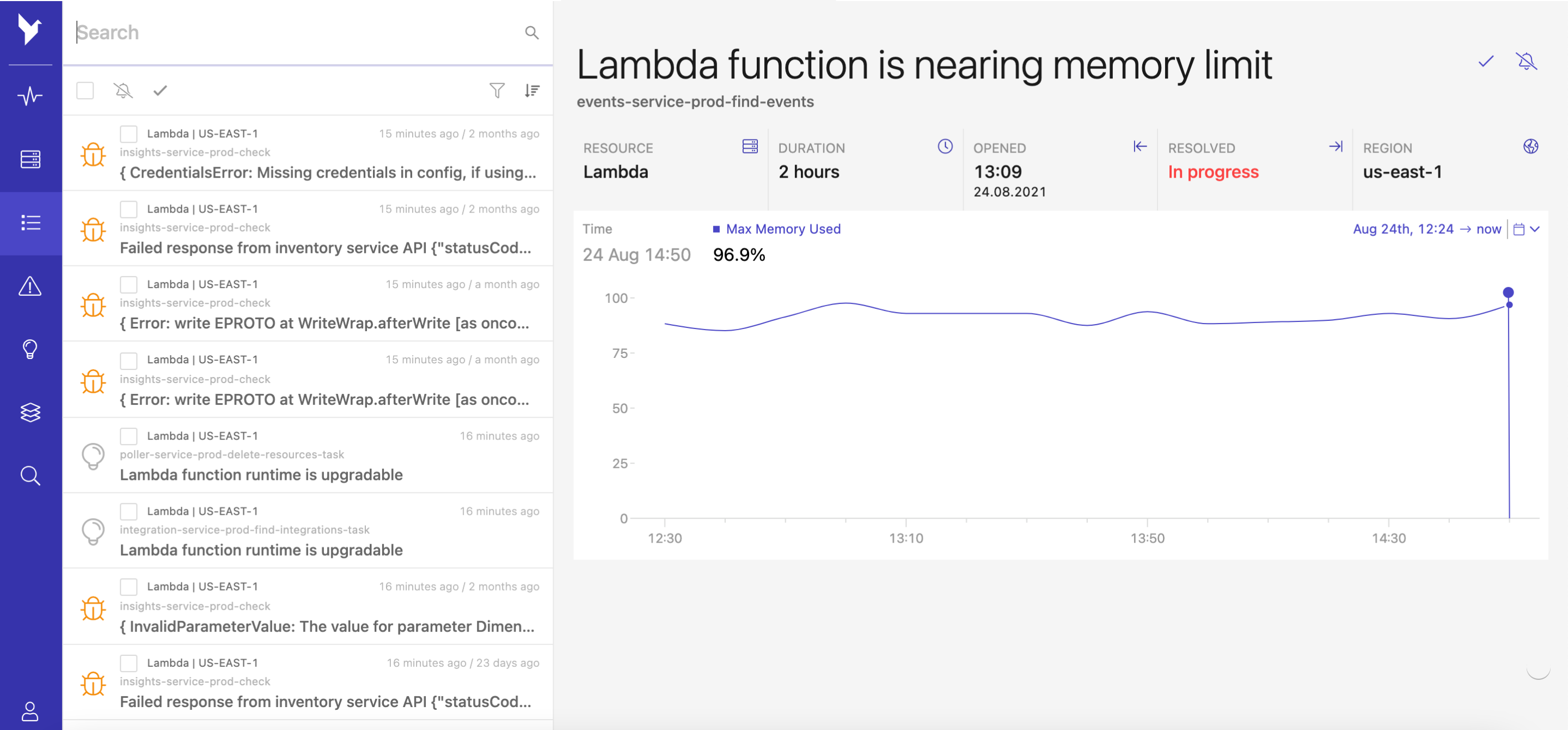 Well Architected Reports
Dashbird features 100+ continuous checks on your resources based on the five pillars of the AWS Well-Architected Framework and gives you aggregated data reports and actionable advice on what could be improved in your infrastructure.
These checks and suggestions uncover weak points in your system affecting reliability, security, cost, performance, and operational excellence, helping you build a bullet-proof architecture.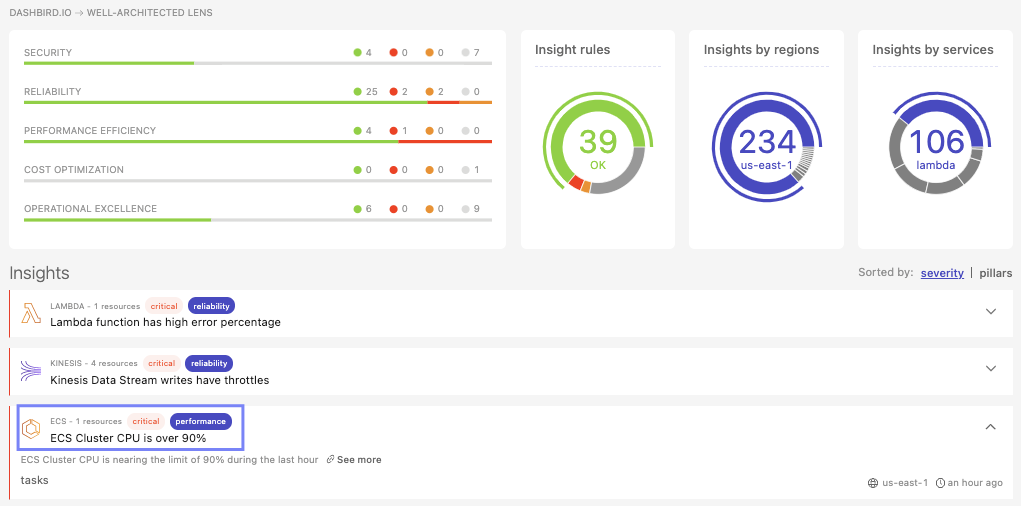 The simplest setup in the market – no configuration needed
Dashbird requires no code changes (just read-only access to your AWS stack) while still giving you end-to-end visibility.
Setting up takes 2 minutes and you run no risk of affecting your serverless application.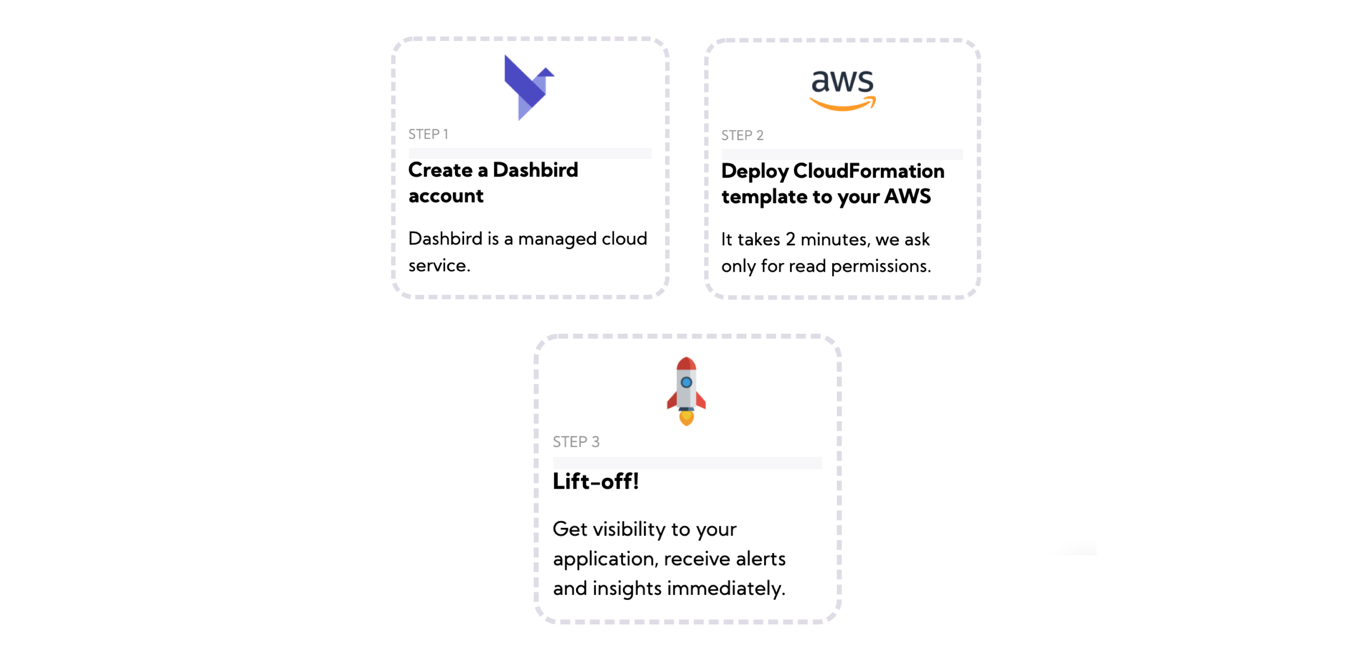 What our customers say
Dashbird gives us a simple and easy to use tool to have peace of mind and know that all of our Serverless functions are running correctly. We are instantly aware now if there's a problem. We love the fact that we have enough information in the Slack notification itself to take appropriate action immediately and know exactly where the issue occurred.
Great UI. Easy to navigate through CloudWatch logs. Simple setup.
See for yourself in under 2 minutes
Start monitoring in 2 minutes. No code changes, no credit card. Start working with your data immediately! Observability and monitoring platform that you'll love.